We will generate electricity using forest resources that are increasing by 80 million cubic meters per year in Japan. Using unused wood such as thinned timber that has been chipped at the chip factory as fuel, the biomass gasification power plant will generate electricity of a scale of 2MW.
The purpose of the project is that the use of unused wood such as thinned timber can contribute to the improvement of degraded mountains and flood control. Woody biomass power generation is carbon neutral technology and can contribute to CO2 reduction as well as creating the job for the local community.
Wajima Biomass Gasification Power Plant
We built chip factory and biomass power plant in Wajima, Ishikawa.
Left: Wajima Biomass Power Plant
Right: Chip Factory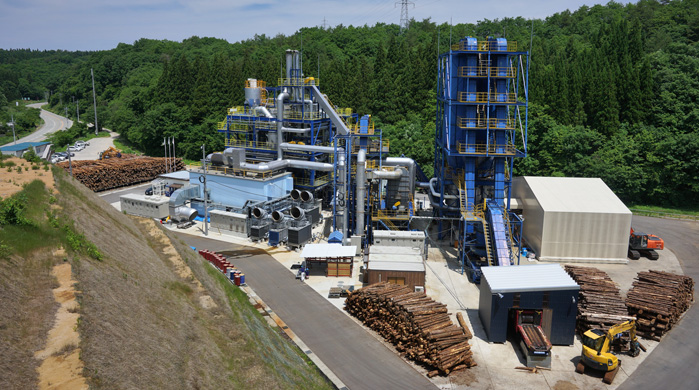 Facility Outline
Name of the plant
Wajima Biomass Power Plant
Plant capacity
1,944KW (equivalent to 2,500 general household)
Annual power generation volume
approximately 16,000MW (24 hours, 335 days)
Raw feedstock
Pine, thinning forest wood approximately 22,000 tons/year (moisture percentage of 50%)
Power generation method
Gasification engine power generation
Owner
WAJIMA BIOMASS POWER PLANT CO., LTD.
Construction company
TOYO CONSTRUCTION CO., LTD.
Plant designed by
TOYO ENERGY SOLUTION CO., LTD.
Wajima Woody Biomass Power Generation Facility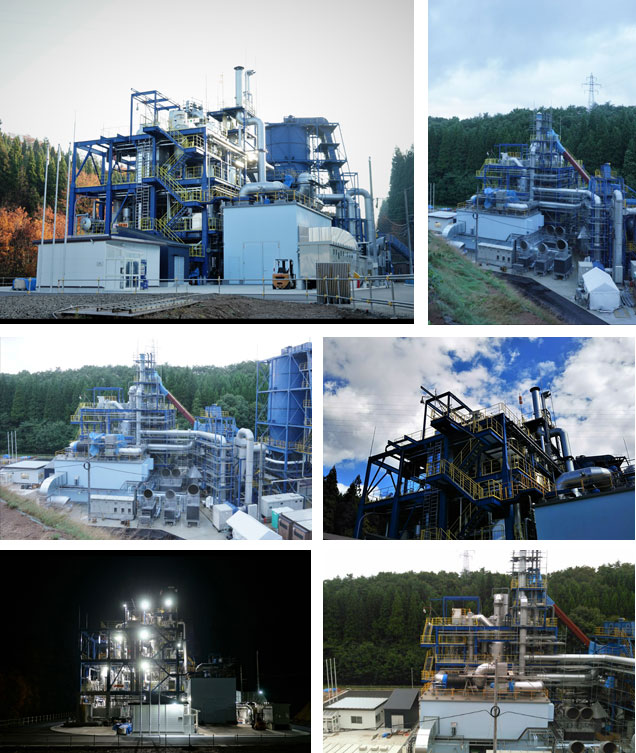 Chip Factory