TOYO Group collaborates with Chinese vegetable processing company that complies with world food sanitation standards.
We are very conscious about the quality of the ingredients and process vegetables under close supervision from product planning, development, material procurement, production, shipment to delivery.
We develop the food that will pleasure customers such as side dishes manufacturers, restaurants franchise, home-meal replacement business owners, hospitals and caregivers.
Features of Parboiled Vegetables
・We prepare the vegetables according to the customers' needs and complies with the necessary standard-Cutting standard, parboiled method, packaging standard.
・No use of rotting prevention agent or preservative solution
・Quality guarantee for 120 days after the processing date
・Heating treatment with less than 90℃
・Finishing indicator for our pre-treatment is the condition similar to 10 to 20 minutes before the cooking.
・We conduct rigorous receiving inspection according to our strict purchasing standard
・Residual agricultural inspection is conducted at the affiliated factories before purchase
・TOYO administers, inspects and evaluates the whole process of production of vegetables, purchase, and delivery of the products.
・Only ship the products that meet our strict delivery standard.
New Manufacturing Process of Parboiled Vegetables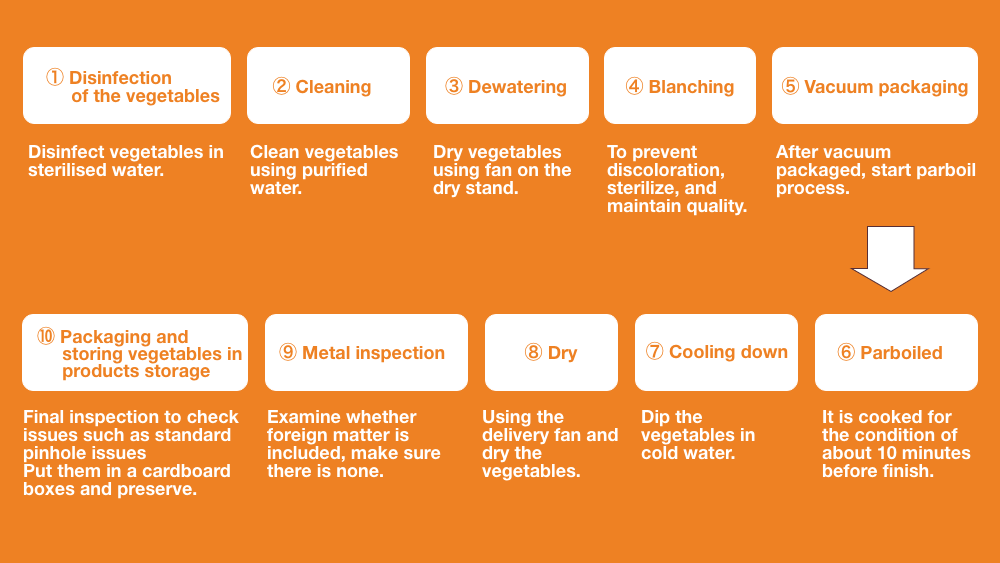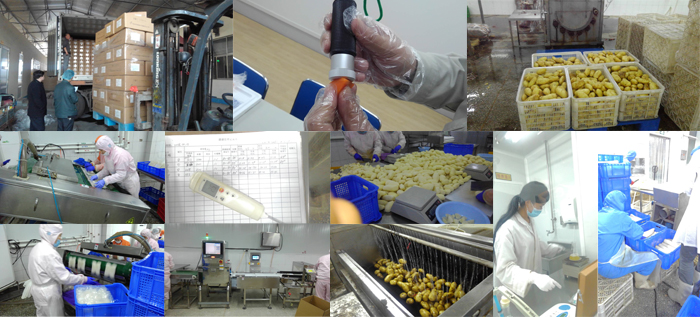 FAQs
Q. What is parboiled vegetables?
It is a cut vegetable heat treated after vacuum-packed.
The vacuum-packed vegetable is boiled gradually in a hot water at more than 90 degrees and prepared for the condition of 10 to 20 minutes before cooking.
Q. What is the advantages of parboiled vegetables
Less fluctuation of the price (planning accuracy of the business plan increases)
It is cheaper than buying fresh vegetables (reduction of material cost)
Better yield (Reduction of material cost)
No need for pre-preparation of the vegetables (It contributes to the reduction of labor force)
Shorter cooking time (reduction of labor cost)
Flavor, texture, eating quality are same as fresh vegetables when they are pre-prepared Able to conserve in a cold temperature for 120 days.
Safe food with no preservation agent.
Q. What is the difference between frozen vegetables, boiled vegetables, parboiled vegetables, and cut vegetables
Frozen vegetables: after blanching, stored in a freezer (More than a year)
Boiled vegetables: Treated by antioxidation, antitarnish agent, and ananticorrosion after blanching, package them with conservation liquid and heat sterilization again.
Parboiled vegetables: After blanching, package the vegetable only and heat treat (4 months)
Cut vegetables: Cut the raw vegetables, bacteria killing treatment and pack them (7 days)
Q. Where are they sold to?
Household dishes
Household dishes division of supermarket
Kitchens for Restaurant franchise
Schools or institutions that serves lunch
Boxed lunch venders
Hospitals and care centers