We are now planning material-cycle complex facility of biomass power plants and biogas plant factory.
OUR BASIC BUSINSS FORMAT
Material-cycle Complex Business

Power generation methods for methane fermentation gas power projects
Anaerobic digested biogas power generation is a power generation method by feeding livestock manure and plants to the fermentation tank and activate naturally fermented bacteria to produce methane gas. Power generator produce electricity using this methane gas.Comparing to the organic combustion system using oil and gas, this system is much more environmental-friendly system.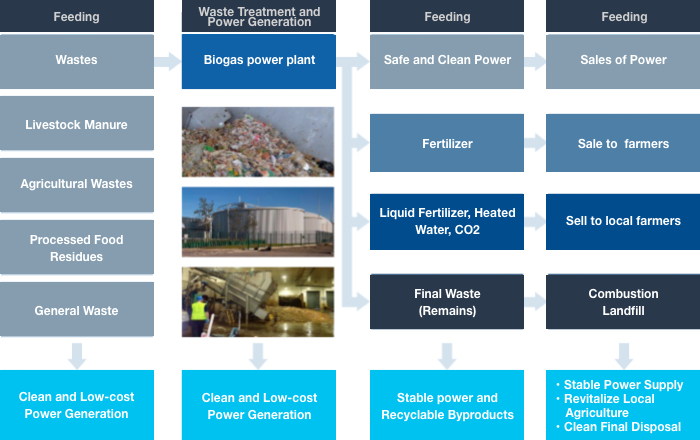 IMPROVE WASTE TREATMENT
Waste can be utilized as liquid fertilizer, solid fertilizer by using anaerobic digestion method to generate power. It can also reduce the rotting odor and carbon footprint produced by landfill. It can also extend the life of incinerator for 10 years, and reduce the operation cost of the waste treatment facility by treating the less moisture waste after fertilization treatment.
Waste Treatment Flow using the Biogas Power Generation Plant